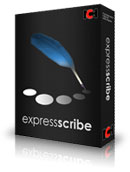 Hi, everyone. I have come up with instructions to setup time stamping in Express Scribe. Express Scribe also allows you to view videos, and if the time stamp is in the video, then it is really easy to keep the time stamp accurate.
I have found out that the time offset option was added in version 5.03. So, you must have that version or later to use it. I hope these are easy enough for you to follow.Choose the tab Options>Choose Tab Hot-Keys >a open hot key(I chose F1) and make it Copy Time
In the Display tab (you can manipulate what kind of time mode you want)
……to get it match a video time, the time mode needs to be on Time Elapsed
……then you choose what format you want, I need mine at  [00:00:00], so I choose hh:mm:ss(with leading zeros) and prefix and suffix [ and ] and Duration format the same hh:mm:ss (with leading zero)
Now make sure you can see the video to get the start time.  If your video doesn't start at 00:00:00, which most do not– on the file itself right click on it, and pick dictation information.  Here you will see where it says Time offset: and you will put the time the video starts.
Now, of course ES doesn't have frame rates, so you might notice the time off a couple of seconds, so you may have to adjust the timing manually at times.
Note: If it doesn't work the first time, sometimes you may have to redo it a second time.  A glitch I guess.
Hope this is helpful.  I know it has saved me a lot of time